STRUGGLING TO PROVIDE TIMELY QUALITY DOCUMENTATION TO YOUR CUSTOMERS AND END USERS?
The Quality function in your organization likely started out as most others do, with spreadsheet and paper-based systems. Such tools certainly seem reliable for conforming to functional and regulatory needs and staff certainly seems comfortable relying on these familiar tools. But what if demands for Quality-related data and documentation for internal users and customers increase? What if it becomes critical that documents like Certificates of Analysis or process control charts be generated more quickly and with greater variation in content? Can your paper and spreadsheet-based systems keep up?
YOU NEED TO SCALE YOUR QUALITY MANAGEMENT TASKS WITH SOFTWARE THAT FITS YOUR BUDGET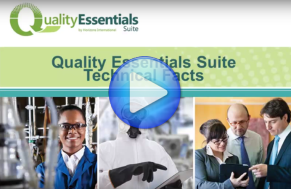 There are two primary reasons Quality functions retain paper and spreadsheet-based systems.
A lack of confidence that the required tasks can be accommodated any other way.
The belief that they can't find a Quality Management Software solution that will fit the budget.
Want to learn more? Please watch our intro video titled Quality Essentials Suite Technical Facts.
Quality Essentials Suite Meets Your Operations and Budget Needs
This software product was designed from the ground up to be a budget sensitive fully functional quality management system that provides centralized access and security for your data. There are two core modules that can be utilized as a solution integrated with Microsoft Dynamics or can be operated completely independent of any source manufacturing, business or ERP solution.
Data Management
Supports users as they efficiently record with their choice of mobile or desktop functionality the observed testing values from environmental or product inspection tasks. This data can later be analyzed with charting tools, documented or even exported via excel. This product contains functionality specific to generating unlimited varieties of documents for use as certificates of analysis, item specifications and process control charts.
Improvement Management
Focuses on functionality related to non-conformance reporting, root cause analysis, corrective actions and other aspects of a CAPA system. It targets the needs of ISO9000:2015 requirements for formal improvement management processes in certified organizations.
Lot Management
Integration with DynamicsGP provides the ability to hold and release lots both automatically and manually. Lots that are held cannot be transacted through the inventory, sales or manufacturing functionality.
Lot Attributes
Integrates with DynamicsGP to allow test result data to be retained as lot or serial attributes to aid in material selections.
Technical Specification & Licensing
Visit Us at
https://qualityessentialssuite.com
These products are sold with unlimited user access per company and the data is managed with Microsoft SQL Express (free version) or Microsoft SQL Server Standard Edition. The software solution is deployed today with a client/server architecture that includes remote or web access.
Software sold includes tools for data export to Excel, report designing and dashboard development.