Small and medium-sized manufacturing businesses need the same features and functionality to support their operations as large enterprises. We can help you achieve those benefits with solutions for:
Why Is Mixed-Mode Manufacturing Functionality So Important?
Read More
Is Mixed Mode Manufacturing Your Ideal Fit?
Do your manufacturing processes include:
Blending products and selling them in discrete containers?
Punching or cutting parts with different dimensions in a single production run?
Assembling devices based on Kanban, cellular or pull-based planning tools?
Disassembling and refurbishing equipment?
Reacting, fermenting or distilling materials with varied grades at output?
Then, for the most efficient inventory and cost management results, you will need a manufacturing software solution that utilizes both process and discrete functionality. Horizons Mixed Mode Manufacturing Suite integrated with DynamicsGP provides support for discrete, one-at-a-time and batch, many-at-a-time functionality in a single software solution. We maximize the end users' opportunity for return on investment by covering a wide range of common manufacturing tasks in a single solution.
Affordable, Effective Solutions Targeted to Your Industry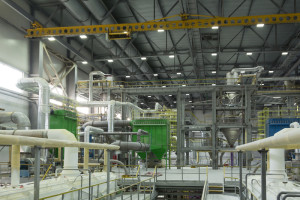 Finding the combination of discrete and process manufacturing functionality required for your industry in a single software product is challenging. Finding that functionality with complete integration to Microsoft tools that are already familiar to your staff has been even more difficult – until now. Welcome to Horizons International and our suite of products for manufacturing, distribution and quality management. Our products are designed to make tools commonly available to only the largest enterprises affordable for any manufacturer. For over 20 years, we have been satisfying the needs of manufacturers and we look forward to the opportunity to serve your organization, too.
All Your Manufacturing Functions In One Package
BILL OF MATERIALS
Manage quantities, costs, yields and versions. Generate batch and production orders.
FORMULATION
Scale ingredients, co-products, by-products and intermediaries. Trace adjustments.
MRP
Time-phased material planning with forecasts, auto-generate purchases, multi-locations.
LOT & SERIAL
Automatically trace cradle to grave activities, generate reporting, manage quarantine and release.
QUALITY CONTROL
Specification, inspection results, data collection, storage, dashboard tools for analysis, reporting.
ENGINEERING CHANGE CONTROL
Bill of Material and Formulation management with approvals and real-time access to historical data.
SHOP FLOOR MANAGEMENT
Schedule resources, track order status, collect performance data to fine tune operational constraints.
ITEM PRICING MATRIX
Manage pricing for items, customers and volumes using rules and date effectivity. Unlimited price lists.
CONFIGURATOR
Quote and build to customer specification with custom routings.
Spotlight On: Perpetual Inventory through Integrated Manufacturing
Click Here for
More Tips & Tricks for Inventory Success
Manufacturing and distribution organizations rely on inventory to satisfy their customers. Making the effort to maintain the right level of inventory investment is critical to business success. Too much inventory ties up too much cash and too little inventory results in a failure to meet customer needs.
Software that supports the integration between purchasing, production, and shipping provides the most reliable view of real-time inventory in the most cost-effective manner. It will help you be successful in three ways.
The "Two For" Benefit.
Integrated software solutions provide a "two for the price of one" benefit. Every transaction that affects an inventory item also generates the correct accounting transaction, so your decision-making data is always real-time and accurate. Month-end processes close more quickly.
Meaningful Physical Inventory Results
Without real-time inventory transactions to mirror the events of your processes, your physical inventory count is nothing more than a snapshot in time. Real-time tracking with integrated solutions means you can identify what your expected counts should be and you can monitor how effective your business process controls really are by the accuracy of the counts.
Quality System Improvements
Physical inventory reconciliation will highlight issues in your processes that need to be fixed. Identify which stock levels can be safely reduced by addressing quality issues with your vendors.
How Much Can I Expect To Pay?
Read More
Estimate Your Cost
Your cost has two key elements, software licensing and implementation services.
Licensing is easy to predict because it is directly tied to what you want the software to do and how many people will be doing it. It is also the basis of your measurable return on investment because it identifies specifically what tasks are changing and how will they be more efficiently or cost effectively handled.
Estimate Your Cost Implementation Services are a bigger percentage of your costs today because licensing costs have become commoditized while the skills for implementation are still scarce, especially in manufacturing. Every manufacturer uses different methods for producing their products so mapping the right kind of transaction to your processes takes special skills and vertical knowledge.
We are confident that the numbers on our Pricing & Plans page are realistic estimates of the investment needed for success.